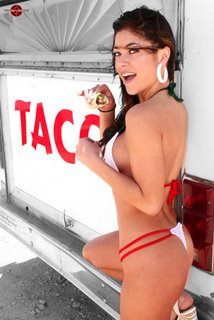 San Diego Late Night Taco Shop Game
When you roll south of The Orange Curtain, there is one type of Game that regins supreme: San Diego Late Night Taco Shop Game.
In fact, because of the Police State that California has become, it is a great move to skip the Nightclubs and Bars in San Diego altogether, and just hit up The Taco Shops (The Del Mar Racetrack is of course, acceptable) late night. Especially if you are a player on a budget.
Late Night Taco Shop Game is a specific skillset and is a great Budget Game move for playboys low on scratch.
Side Note: Oftentimes, The G Manifesto is criticized for only having high-end Game moves. Sure the high-end Game moves are the best you will find anywhere, but I disagree. In fact, I challenge anyone to find a better resource for Budget Game moves than The G Manifesto. Check the archives, there are tons.
Here is what you need to do:
Swagger
After the bars close, and you roll up in the candy painted drop top Impala, tripping off pisto in the cup to the Taco Shop, come with mad swagger. Chingón. Keep in mind, this is not the kind of swagger you need for Miami Beach. Think less Muhammad Ali and think more Julio Cesar Chavez:
Knowledge
When you see the fly girls in line waiting to get their California Burritos, place their order for them. Speak Spanish for Style Points. You need to show them you know "what up" with the taco shop Game. Alternative opener: ask them "Have you ever had an Al Pastor before?"
Then work it from there.
LIL ROB JUST ONE OF THOSE DAYS

Gear
Surprisingly enough, you don't need to go Custom Suited Down for Taco Shop Game. I mean, of course it works, however, you might be well advised to take off the shirt and the jacket and just roll slacks and the wife beater. This way, you won't squirt any guac on your Custom jacket when you bite into your three rolled tacos with extra guac.
Aggression
If you see some firme hynas open, make your move. Many people use Late Night Taco Shop Game as a last ditch effort, and guys get aggressive. Tons of cats start pitching Beaks and Beans at girls. Counter that aggression with aggression of your own. Surgical Mayhem, if you will.
Fights
When you are spitting top flight Taco Shop Game, you need to watch for rival crews and clickas. I could literally write volumes of stories about Taco Shop brawls I have witnessed or have been a participant.
Here is a good one from back in the day:
One evening, I was chilling at a famous Taco Shop in La Jolla, post Chronic Jay. I was keeping it real, enjoying a Carne Asada Burrito, when at the same time, a crew of three Mexicans (not Eses, think more rich TJ heads, possibly Narco Juniors) and two local guys from the LJC walked in at the same time.
I wasn't really paying attention, but they started beefing. The La Jolla heads where getting all "locals" vibe on the Mexican cats and trying to get them to back down. Suddenly, one of the TJ cats grabbed a Carnitas Burrito and slammed it straight into the mug of the bigger of the two LJ guys. Guacamole, Salsa and Shredded Pork went flying everywhere and splattered all over the menu board.
I was pretty high, but I was quick enough to jump on the table and avoid the melee that proceeded to incorporate chips with cheese and guac, rice and beans, flying saucers, Pollo Asado, mad salsas and mad guac all over the place, not to mention punches. Two of the cats were even rolling around in the stuff of the floor and the place became a full-on messy Mex-fest.
Realizing that my only way out, and avoid carne, salsa an guac all over my clothes, I jumped from table to table and hopped out the door with the food fight/fisticuffs in full swing.
I even still had half my Carne Asada Burrito still in check. And not a drop of guac on me. Smooth.
So watch the fights when you are spitting Taco Shop Game, some of them can be way more sinister.
Side note:
The G Manifesto might be taking a new direction with these super specialized innovative Game styles. These days, I feel so far gone, that I am almost on my way back.
Click Here for The G Manifesto's The Tijuana Report: There is a War going on Outside
Click Here for Cocaine Trafficking in Latin America
Click Here for Narcocorrido: A Journey into the Music of Drugs, Guns, and Guerrillas
Lately, I have been spending my days swooping on topless girls at the beach, so I am not really sweating all this.
The Rest is Up to You…
Michael Porfirio Mason
AKA The Peoples Champ
AKA GFK, Jr.
AKA The Sly, Slick and the Wicked
AKA The Voodoo Child
The Guide to Getting More out of Life
http://www.thegmanifesto.com
Mr.shadow – crazy ass mexicans