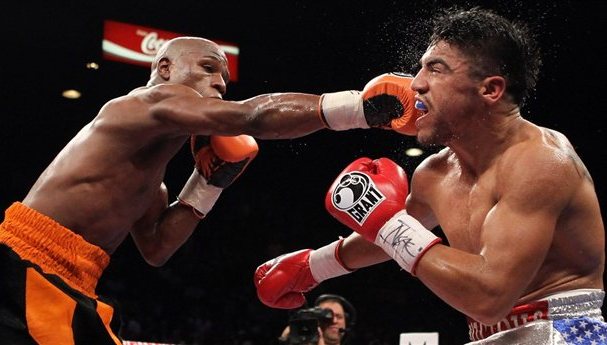 Floyd Mayweather Jr. VS Victor Ortiz: Final Thoughts
Since I have finally got over my back injury and started sparring again, I have been watching a lot of Boxing tape.
Last night, I had the pleasure of watching Floyd Mayweather Jr. VS Victor Ortiz again:
Now, I have already given my thoughts on the fight.
However, upon watching the fight a second time, it only strengthens my views.
1. Floyd was completely controlling the fight. He was doting up Ortiz with almost every punch. Ortiz was only going to last 3 more rounds tops.
2. Ortiz was butting Mayweather constantly in the fight. He did it in the first. He did it in the second. The third and at least three times in the fourth before the "final headbutt". Floyd didn't complain the entire time. Now that's G.
3. The Referee gave at least two verbal warnings for head butts prior to the "final headbutt". There might have been three warnings.
4. Floyd's Knockout punch was completely legit and shouldn't have even been questioned by anyone. Especially when you consider what happened previous. Payback is a b*tch. I think James Brown said that.
It is amazing and a travesty that Floyd was thought of as the villian in this fight.
There was only one fighter who did anything wrong, and his name was Victor Ortiz.
Just kind of shows you where the world is at these days; backwards.
But then again, you got guys in America where skinny jeans and shirts with glitter in modern society.
So maybe it shouldn't be a shock.
Click Here for Home Boxing Workouts
Click Here for Roosh's Day Bang: How To Casually Pick Up Girls During The Day
The Rest is Up to You…
Michael Porfirio Mason
AKA The Peoples Champ
AKA GFK, Jr.
AKA The Sly, Slick and the Wicked
AKA The Voodoo Child
The Guide to Getting More out of Life
http://www.thegmanifesto.com
WHY YOU HATE FLOYD MAYWEATHER