New Orleans Bans Ed Hardy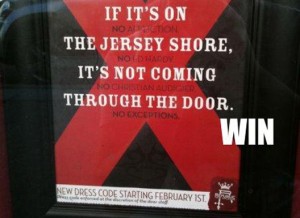 New Orleans Bans Ed Hardy
Click Here 007 Lifestyle – Living Like James Bond!
(Here is my Facebook, New Twitter and The G Manifesto Facebook Page)
Since I have been down in Cartagena, mass people tipped me off on the banning of Ed Hardy in a New Orleans Nightclub:
The idea came to Nick Thomas, Director of Programming, while watching the MTV show. "The whole thing is so funny because I was literally watching Jersey Shore in passing at 4 a.m. after being at Republic I thought, nothing would make me happier if not a single person dressed like this was in Republic. Then I thought, "Why can't that be the rule?" The club put a flier on its window at Mardi Gras and the dress code spread across Twitpix which led to a mention on NPR. "It's been well received because we have the best clientele, but I never thought the story would have this kind of national merit."

Specific brands mentioned include No Affliction and Ed Hardy, but Thomas clarifies that, "The dress code isn't limited to those brands, those are just the most obvious of the Jersey Shore-esque attire." He includes "any other knock bedazzled tee shirts or hideous foil inks. The dress code isn't about the brands, but the people that wear those brands. If a big beefy guy, over worked-out with way too much hair gel is copping an attitude at the door or anything within that realm, he's not getting through. Ultimately if the clientelle in the club isn't starting fights or disprespecting women, everyone in the venue can have a good time."
In case you can't see the photo clearly, it says: "If it's on Jersey Shore it's not coming through the door: No Affliction, No Ed Hardy, No Christian Audigier, No Exceptions."
I love New Orleans.
Click Here 007 Lifestyle – Living Like James Bond!
Check out these other Ed Hardy data sheets:
Fuck Ed Hardy by Dirt Nasty, Andy Milonakis, and Rich Hill
Christian Audigier VS Ed Hardy: The Lawsuit
Ed Hardy Blacklisted by Vancouver Nightclubs
Ed Hardy, Christian Audigier and Michael Jackson
Wale's Elitaste disses Ed Hardy
Down Economy hurting Luxury Hotels
A Typical Tuesday Night in Southern California
Top Ten Reasons Why This Was The Worst Decade Ever

Don't let it go to your head, Young G
The Rest is Up to You…
Michael Porfirio Mason
AKA The Peoples Champ
AKA GFK, Jr.
AKA The Sly, Slick and the Wicked
AKA The Voodoo Child
The Guide to Getting More out of Life
http://www.thegmanifesto.com
Santana – Winning