Models, Murder and Mayhem, The South Beach War Report Part II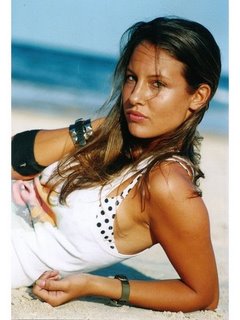 Models, Murder and Mayhem, The South Beach War Report Part II
Click Here for The South Beach War Report Part I: The Basics
Click Here for Fool's Paradise: Players, Poseurs, and the Culture of Excess in South Beach by Steven Gaines
Click Here to Buy Cocaine Cowboys
So you're on a roll in your crappy hometown (and I don't mean beans either). You have been swooping mad girls. Your Game is water-tight at the dive bars. Your Day Game is lacking no zip at the malls. You have been cleaning up at your local Hooters. You even somersaulted a pound of the G 13 you got from the V 13. You think your ready for South Beach and all the Models that come with it right? No, you're not ready. Not until you read The G Manifesto. (Not like there is anything wrong with Hooters girls. In fact, I have done an unofficial case study and I have found out that Hooters Girls are like a farm team for future Playboy Playmates. The G Manifesto on swooping Hooters Girls, coming soon…)
We have already gone thru basic technique in The South Beach War Report Part I: The Basics (click link); if you haven't yet read it now would be a good time to etch it in your skull. Today we are going go over Advanced moves and techniques for Boa Constricting South Beach.
Rass Kass, Miami Life
We have already gone over Street Game techniques in Street Game…It's kinda like The Crack Game (click link), so you should have a good idea of what I am talking about. Street Game is at a premium in South Beach (especially in comparison to cities like Las Vegas where Street Game is almost non-existent). Some of the most beautiful girls you will see in South Beach are going to be on the Street. Corner to Corner. Curb serving. Anticipation is paramount. You need to Anticipate which direction a girl is walking when she is at a street corner. This is true for Day Game, Evening Game and After-Hours Game (I never have overstood why people call it "after-hours", if you are looking for heist-tips or swooping, these are "peak hours"). If you see a fly Paraguayan Model Girl with a Nancy Gonzales turquoise Crocodille Clutch in hand at northeast corner of Collins and 17th and you are across from The Delano, you need to make quick calculations and Anticipate. Is she going to mash up 17th? Or do I need to cross Collins and cut her off in front of The Sagamore and pitch her on cocktails and pro-bono Lamb Cigars at the Bar at Social Miami? Its questions like these and proper Anticipation that separate the perpetrator G's from The Truth. Posting up, dressed sharp (Rakish Ozwald Boateng 2 button suit, side vents and Gucci loafers, loosened Mint green Zegna tie, and I don't mean Club Mynt either, 9 milly, rubber grip, should work) with a cigarette hanging out of your mouth, clacking a Zippo near a modeling agency has never been bad for anyone's health either.
Slave, Watching You

Research
"Time spent on reconnaissance is never wasted"-El Cid (G Manifesto Certifed Castilian Nobleman, Conquerer and 11th century G). You need to know which spots are the right places to be on which nights in South Beach. This is easy if you are me and you have this Data memorized. But if you are regular everyday Guy, you are going to have no chance unless you have the intell. The easiest way to get this data is to post up at a High-end hotel and lock the bartender down. Grease them if you need to. Get the info. If you lock the bartender they will probably give you a name or two to drop as well. Make sure you get the times you want to arrive, door guys names, afterhour's spots and restaurants wired. If the bartender is a fly girl, pitch her….skippy.
Early Leads
A lot of people don't utilize this angle. Miami Beach is the kind of town where it's easy to be unfocused and get Caught Up (and I don't mean that Bokeem Woodbine film either). It's a long night in Miami Beach; getting Early Leads is like investing in Mutual Funds with some jerkoff stockbroker before the Bubble burst. Or investing in real estate before the equally jerkoff mortgage brokers got their pockets turned inside out. Call the Early Leads later in the night as an "escape hatch" if need be. Sure you have to listen to Fergie's "Glamorous" track on every girl's ringer but trust me; you will be thanking me at 3:30 am eastern standard time.
Pimps
Late night, certain sections of the street become a Track in South Beach. You will see a lot of Pimps and their girls rolling the streets. We have already touched on The Pimp Game in: Veins of Ice: Lessons from The Pimp. I always say, "what up" to the Pimps on the Ave. Game recognizes Game type situation. Player Recognition. They always respect my swagger. And they are usually blinded by my suit game. I always take a little time out from the evening and chop it up with these guys.
Heaters
There are plenty of tough guys on South Beach. A lot of these guys work out a lot. Now, I hit hard, have solid Muay Thai and my submission defense is up to snuff, but that last thing you are going to see me do is roll around on the Concrete in a $2100.00 custom Prada suit (my goal, of course , in Miami Beach is to roll around with a Model girl or two on high thread count Egyptian Cotton Sheets). So I always carry chrome on Miami Beach. Historically speaking, the Mack 11 with silencer has been de rigueur on Miami Beach. But recently, I have been favoring the Heckler & Koch MP5 when I can feel it in the air…more high class, more style points. (And I'm not Phil Collins; I'm more like Joseph Stalin). I drop 3 G's on suits imagine what I spend gun shopping……(and I don't care what I spend on security it helps me sleep during the day.)
Click Here for Fool's Paradise: Players, Poseurs, and the Culture of Excess in South Beach by Steven Gaines
Click Here to Buy Cocaine Cowboys
In the Air Tonight
Workouts
Even the most Sinister G's can hurt after a good three day runner in Miami Beach. Now try three months. The good news is (and I don't mean News Café either) is that getting a workout on and Entering The Dragon in South Beach is as easy as picking up a dope Hollywood Party Girl with a faux talent agent card (especially compared to getting a workout on in Las Vegas). Bust a beach jog up to the Fountaine Bleu and back like that. Keep your head right, don't go insane and try to hit the same vein as Kurt Cobain. The humidity will help you sweat out the good stuff with a quickness. I always like to box a few rounds as well to keep my hand speed and reaction times up. Many times I will leave Miami Beach in better shape than I arrived. Make sure you intermix a steady diet of Stone Crabs and Haute Cuisine with Cuban food (home cooked Ropa Vieja, Ajiaco Cubano, Roast Suckling Pig and Pollo con Quimbobo y Platanos as well) to Fuel The Dragon. Also, make sure you Gulp down plenty of Café con leche to keep the Skull Game tight. And, chain smoke to keep your lungs in order.
Connections
Connections are King in South Beach. Which is good for me since I have them in Spades. Cuban G's, Club owners, Door guys, G's who move two kinds of Miami Bass, Colombian Rakes, Vip Hosts, Euro Playboys, South American General's kids, Cocaine Cowboys, Matre D's, NYC Kool Kids, Bensonhurst, Bay ridge, Gravesend, Bath Beach top Guns, Marielitos (did I miss anyone?), you name it I got them. Then you too can be slick as a curl and smooth as a pearl. Now you just got to spit more Game than a mouth full of poker chips to get the Models with the bony hips….
Innovate and Undefeated
"El Cid never defeated by any man on the Earth". One of the reasons for El Cid's success was that he constantly analyzed warfare. If you have a tight crew, all of you should analyze what works and what doesn't. Take suggestions. He also was a great innovator and used unexpected strategies in War. Do the same. Create your own moves. Pioneer your own techniques. The Rest is Up to You…….
Soon we will tackle Getting into Clubs: South Beach Style. And later we will get into The Framework for Swooping Models. Till then, The Rest is Up to You…..
Click Here for The South Beach War Report Part I: The Basics
Click Here for Fool's Paradise: Players, Poseurs, and the Culture of Excess in South Beach by Steven Gaines
Click Here to Buy Cocaine Cowboys
Michael Porfirio Mason
AKA The Peoples Champ
AKA Sosa
AKA El Campeador
The Guide to Getting More out of Life
http://www.thegmanifesto.com
(Want to see something in The G Manifesto? Send suggestions to thegmanifesto@yahoo.com)
Good Knock Outs, In the Air Tonight
Mobb Deep's Its Mine