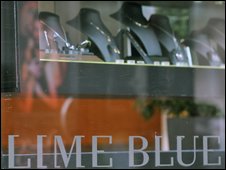 Female Thieves hustle jewellers for ring
Two thieves who stole a £15,000 diamond ring from a jewellers in Edinburgh are being sought by police.
Two women, believed to be of middle-eastern origin, walked into Lime Blue jewellers in George Street and asked to look at a ring in the window display.
They acted as if they wished to pay for the ring but when the shop assistant turned away, the thieves walked out of the shop with it.
A Lothian and Borders Police spokesman said: "This was a brazen high-value theft carried out by two women who are believed to have visited a number of shops in George Street yesterday afternoon.
"We are appealing for any members of the public who may have noticed the suspects in George Street, either before or after the theft took place, to contact us immediately.
"Similarly, anyone with any other information that can help us identify the two women should also get in touch."
This is a classic hustle.
And in my experience, is better preformed by women.
The Rest is Up to You…
Michael Porfirio Mason
AKA The Peoples Champ
AKA Your favorite International Playboy's, favorite International Playboy
The Guide to Getting More out of Life
http://www.thegmanifesto.com
Brick & Lace: Love is Wicked