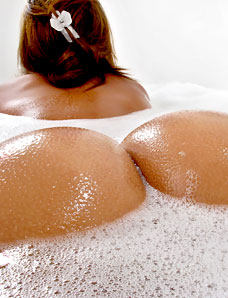 Guest Manifesto: Las Vegas in May
Click Here for The Blueprint of a Perfect Night in Las Vegas
Click Here to Download The G Manifesto's Free Gentleman's Club Report (pdf)
Click Here 007 Lifestyle – Living Like James Bond!
It's Middle of May and it is 105 degrees in the shade. I wake up wrapped in 1500 thread count sheets and a 5'10 dancer, a nice southern girl, of course. Went a bit too far last night, but damn, what does it even matter. You know I went out suited up and ran the strip from one end to the other. When I'm stepping out of the club with the hottest girl that was there on the way back to my room at the Bellagio, I see you looking. I'm in Vegas and I feel like Tony right after he gets back to his crib… "I gotta get organized". Montana, not Soprano, minus the blow (for the most part). The suites at Bellagio, Caesars, and Wynn are so huge you can have a 12 person after party without the slightest bit of problem. The suites are equipped with elite furniture that is usually littered with those fly LA girls that I met last night, other bodies, Rose champagne bottles, some other girls tall ass Cavalli shoes, underwear, room service, and other products of a successful sunrise party. I never throw after-parties in my room though; the last time resulted in ejection from a 5-star in Atlanta at 6 in the morning. That's how I do things.
Anyways, from my perspective, your body begins to shut down by your fourth day out here. You've got to pace yourself. I start every morning by sweating out the toxins, i.e. whatever vices I consumed the night before with a 30-45 minute workout at the hotel gym, and I make no excuses. The gym is always the most luxurious I have ever frequented and full of fly models and foreign girls; I really see no problem. There are attendants that bring me water replenishment, which is another key to defeating whatever hit me about the time I walked out of the Spearmint Rhino after strippers had been sweating me all night. And I wouldn't pay them any attention, they hate that. If they are going to hustle someone for money they really wish it would be me instead of your lameass group of you and your bro friends. Maybe next time I tell them. They still love me. Las Vegas. This place is so electrifying…so sense-heightening…and so fucking addictive.
I always stock up on cloves/cigars before I get into town and everything else I need is always provided for me. I just hit my girl up at the Mirage and she sends me whatever I need (don't even think I'll reveal how I got that connect.) I always grab hotel matches and keep them sparking – everyone either uses these or diamond encrusted Dunhill lighters anytime they need heat. Another thing to remember is there is no concept of time here. I watch the sun come up and watch it go down here but that is about as good as it gets for time perception. There are no clocks anywhere and everyday is mine for the taking. I ride in limos and walk a lot and of course my shoes are comfortable because only cheap shoes hurt your feet. The only thought on my mind after walking back from the club right before sunrise is how good the cigar I had with me was going to be and how good the girl I took's ass looks as I follow her down Las Vegas Blvd.
You wouldn't even believe the dayclub pool parties here. You probably can't get in either. The best dayclubs are at Caesar's, Mirage, and Venetian. You shouldn't bother with any of the rest of them unless you like a bunch of frat boys with tribal tattoos and Ed Hardy shirts and Oklahoma prom queens with fake purses that think they are a lot hotter than they really are. The girls at my spots have been in movies, magazines, and have a public image to keep up so when they let go partying they don't want a bunch of nobody's around that will gossip to their friends and tabloids like a bunch of Midwestern farm hicks that have never tasted the life. The dudes here pull out baseball size wads of money and finance the decadence. No one knows how these guys got their money but their speaking about docking 200ft boats in the Caribbean and running up 5 figure bar tabs. I personally care less what they did to get the cash. Most important for me, I only wear my blacked out Prada shades because if you can't see my eyes than you can't see me. I get my pool workout on by using weights, the hotel furniture, and dancer girls I invite to accompany on my little adventures. The DJs are on point at my pools and the party is like a story line: It has a tense buildup, a climax of euphoric fervor, and an abrupt crime scene ending of Patron shot wreckage all set to a fire-orange and crimson-red sunset backdrop.
If you are like me and have a weakness for the green and red felt tables, You really have to prearrange what you are going to do with your winnings or you will spend it on more gambling. I only take casinos money-they never take mine. This usually results in some brand new clothes, show tickets, VIP events, and an ABUNDANCE of drinking money. I don't drink at tables. I hustle and politic every minute I gamble and I let the casinos thrive on you dumbass bitches that go there at lose $3Gs in a day and then laugh about it. I will never let anyone have my $3Gs. And I never laugh when I lose money. I instead use gambling time to replenish my body with water and save the drinking for pools and clubs. And even then, I don't go overboard on the drinking because I converse with fly dancers, models, and moneymakers and game spitting requires a clear head. Contrary to advice from the Big Tymer's, this isn't the time to drink till you throw-up. She was smashed out of her mind but that wasn't my problem. Whether I seal deals or not I have an image and a reputation to uphold and extremely expensive clothes. I'm not letting anyone ruin either.
I dress in the best clothes I own. Please try to hit up Tao in a polo or a t-shirt and expect to get any type of respect. You will see me flying past the line and getting the rope opened for me with a clique of people I brought and you will never get in. Which is good, I don't really want you in there anyways-your game is obviously weak and everyone can see it. You control your destiny and the perception that you portray. Wear polo shirts, you'll get treated that way. I'm not tempted by the style of all those LA d-bags that wear tees and lame jeans. I let them have that style all to themselves. I can't begin to tell you how many times women commended me on how nice I looked. I was suited up all nights in a row (except when I just rocked my shirt I got in the French islands with a French cuff, can't cover up those cuff links) Amongst a sea of print T's adorned with sequins and whatever else the other side of the street is wearing, a well tailored suit and my blown open shirt really stands out.
Finally, I always eat good food. I don't do crappy buffets, I only do the Bellagio buffet which looks like each continent put out the best food it has and sat it out for you to eat. I never eat any fast food or hot dogs or whatever else garbage people go for. I can get that stuff anytime back home, even though I don't. Eat foods that you've never had, experience life. I usually hit up Ceasers' or Bellagio's spot at like 5:30am and the food and liquored up coffee drinks are unforgettable. It could have been my wonderful waitress Natasha…Or it could have been the fact that I chopped it up with Depp and almost knocked him for one of his lady friends. Unintentionally I might add. This is the time to be a grown-up and channel your inner Bourdain. People that really do things eat real food.
I supplement all this by only drinking champagne, Goose, and Patron; never beer. Once I let a few USC football players getting ready to go pro (athletes get the hookup in Vegas and I have nothing against them, I knew several pro athletes and a few prospects and they are fine people) go into the nightspots and order beer and clean up the Vegas sluts so that there were only quality drinks and women left for me to swoop. I'm automatically systematic like that. Never say "What happens in Vegas…" or "Vegas Baby!" I guess that works at the lameass Palms Hotel where everybody is wearing beanies and muscle shirts and is coked out of their mind but that don't even try to pull that type of shit at the places I go. People will look at you weird and some owner or VIP will probably get your ass kicked out for showing ignorance at their parties. And don't try to fight me. I know the girls that you like wherever we may be are sweating me like a coke bottle on a hot day, but fighting someone in Vegas is never something you want to do. Last fight that happened when I was there, one of the guys got lead poisoning. As in, 2 shells in the back of the head. And that was before he got thrown in the million dollars landscaping by a secret entryway in the back of Caesars. How impressed do you think the girls were with him after that? Watch yourself; you don't know who you are dealing with.
Click Here to Download The G Manifesto's Free Gentleman's Club Report (pdf)
Click Here 007 Lifestyle – Living Like James Bond!
Lastly, if you can't do it big in Vegas, don't do it. No one cares about your money problems there and you will end up across the street with the rest of the lames that are trying to ball on a budget. So here's some advice if you don't want to go all out in Vegas: stay drinking beer at your hometown 2-for-1 Chili's night with your polo shirted frat brothers and talk about how great that keg stand was at your college party.
I'll be somewhere a bit more engaging.
Click Here for these G Manifesto Las Vegas Data Sheets:
The Blueprint of a Perfect Night in Las Vegas
Impeccable Technique: Vegas Beyond Undefeated
Cam'ron – What Means The World To You