Player Myth #4081: The Dope Ride
(Here is my Facebook, New Twitter and The G Manifesto Facebook Page)
Click Here to Download The G Manifesto's Free Gentleman's Club Report (pdf)
Click Here 007 Lifestyle – Living Like James Bond!
Here is another of the greatest misconceptions about being a G: The Need for a Dope Ride. (Click Here for Player Myth #4080: The Need for a Dope Crib and Player Myth #4080: The Need for a Dope Crib Part II)
Now, look, I have had dope rides in my day; a mint 1963 Lincoln Continental with Suicide Doors (and I don't mean Suits VS SuicideGirls, either), a 72 Cadillac Coupe DeVille and a 2005 Cadillac DeVille (in 2005) so I am up on what I am putting down. And I can tell you that the lion's share of the attention you get from dope rides is from guys not girls. Usually it is some skippy "congratulating" on how "sick" you ride is followed by tales of how they "used to own" a dope ride similar. Sh*t gets tired real quick.
If you think having a dope ride will get girls stepping to you, you are in for a surprise. Even in Southern California.
Doubt me?
Next time you see a Ferrari roll by, 99 times out of 100 you are going to see it with some solo dude or some cat and his weesh buddy. Rarely if ever will you see it with a fly girl attached.
Ferrari's and other rides at that price point simply aren't with it in regards to swooping girls. Hell, you would need to swoop like 30,000 girls to even make it pencil out. A highly unlikely occurrence, even for the most G of International Playboys.
Another word on Ferrari's: max you can only fit one or two girls inside. Personally, I like rides that you can fit three or four girls in, hence the need for a Lac.
Hell, when I was a young up and coming Playboy on the rise, I drove a Ford truck (mostly for low-profile purposes). Granted, I was in my heavy "transport" days and uncrowded point breaks in Norte Baja days but I still peeled fly girls like a fresh Papaya in Panama.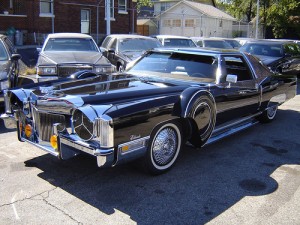 So what do I do these days?
Truth be told, I don't drive much anymore. I am usually waxing too much of a headbuzz and driving is the easiest way to get yourself caught up in the "Shitstem". Nowadays, I mostly spend my time traveling, primarily in cities where having a car is more hassle than it's worth.
Now I never get parking tickets, get towed, get DUI's, get busted with 100 lbs of grass in the trunk or have to pay for car washes, oil changes, new alternators, or gasoline.
If I do need a ride, I have drivers on call. My cell is literally full of town car drivers and cab drivers. In fact, the only thing I have more of in my cell, is numbers of fly girls.
(If I do have to drive to The Del Mar Racetrack or a summertime Mansion Party, I still do it in a Lac).
Click Here to Download The G Manifesto's Free Gentleman's Club Report (pdf)
Click Here 007 Lifestyle – Living Like James Bond!
The Rest is Up to You…
Michael Porfirio Mason
AKA The Peoples Champ
AKA GFK, Jr.
AKA The Sly, Slick and the Wicked
AKA The Voodoo Child
The Guide to Getting More out of Life
http://www.thegmanifesto.com
2Pac – Strictly 4 My N.I.G.G.A.Z – Representin' 93